MATCHMAKER.CONSULTING - Are you satisfied with your current agency or service provider? Are you working with the best?
To reach the top position in your industry, it is of great importance to implement innovative technologies with the best in the industry. The choice of the right service provider plays a decisive role in this. I am happy to support you in finding the ideal partner. Together we can ensure that you are equipped with the best resources to achieve your goals and reach the top of your industry.
Arrange short free check-in
COACHINGS: Building and expanding digital know-how
The speed of further development is enormous. For you and your employees, it is all the more important to build up and expand digital know-how. I accompany you on your way to becoming digital professionals. With targeted coaching and individual training, we expand the know-how in your company.
Learn more about coaching and training opportunities
DIGITAL SUCCESS: Which digital business models will make your company even more successful?
Digitization is disrupting all industries and offering completely new business models. Whether by automating business processes or opening up completely new business areas, a potential analysis gives you clarity and is your compass to even more success. Let's talk about your possibilities and potentials to make your company even more successful.
Start the Test now
START: What's the best way to get started?
1) Let's get to know each other

Before we talk about specific measures and your options, let's get to know each other. Gladly by phone, but I am also very happy to come to your company

arrange an initial consultation

2) Status and potential analysis

A status and potential analysis is essential so that we know where we are and where we can start. With the KMU Digital Fund, this analysis will only cost you EUR 100 instead of EUR 500!

Book status and potential analysis

3) With a clear strategy to your goal

Does your strategy match your goals? Did you include the digital transformation? Don't have a strategy yet? No problem, we develop your corporate strategy to ensure your success.

Learn more about strategy development
Status- and Potential-Analysis - KMU.DIGITAL Funding up to 80% available*
Regular price
4.563,00 DKK
Regular price
4.563,00 DKK
Sale price
4.563,00 DKK
Unit price
per
Sale
Sold out
Share
View full details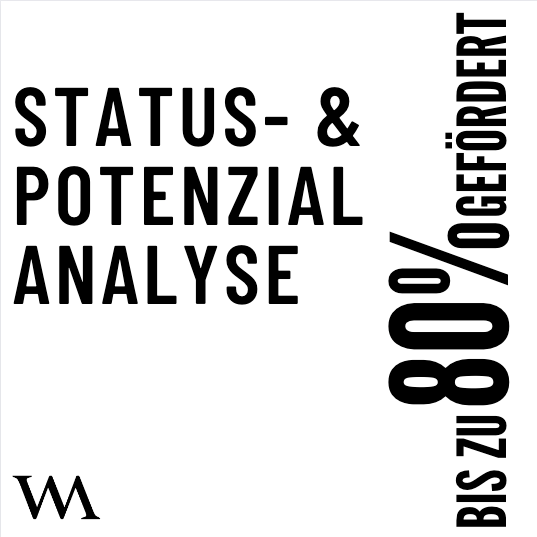 1.-> First things first - let's get to know each other
Why are you in the right hands with me and where are my strengths. Let's get to know each other. I'll show you in detail how we can make your company even more successful together - through digital transformation.
Let's make a quick call
The next step
We know the initial situation roughly and where the journey with your company should go. Now it is important to know the current status. Therefore, the next step is to carry out a status and potential analysis.
Details on the status and potential analysis
Achieve the right goals with a strategy
You must have many ideas and big goals. Whether in sports or at work. Without a strategy, every goal is just a dream. Or do you leave your success to chance?
Navigate correctly with strategy consulting
Implement digital projects now
Success rarely comes by itself - in close cooperation with my customers and partners, we successfully develop digital solutions with real added value.
Termin online buchen
5. -> Hoch hinaus - jetzt richtig Geld verdienen und skalieren!
Your online business is picking up speed. Now it's time to build and expand your success. With the right scaling measures, you can achieve your goals even faster and more effectively.
Book your free consultation now
Know how to do it!
The speed of further development in the field of digitization and technology is breathtaking. With the right coaching, you not only focus on the essential things, but also know how to assess new trends and further developments.
stay competitive
Website, online shop or both?
This answer is easy! Corporate websites are still very popular these days, but more often than not, customers are looking for the quickest way to purchase a product or service! I have also replaced my classic website with an online shop. This has many advantages! You want to know more? Then do the short test!
Start digital needs check